Embroidery is a really terrific craft. The tools are inexpensive and readily available, the projects are portable, and you can embroider ANY drawing. Today I want to introduce you to the basic tools, teach you how to transfer an embroidery pattern, and give you specific details on how I stitched up one of Joel's designs.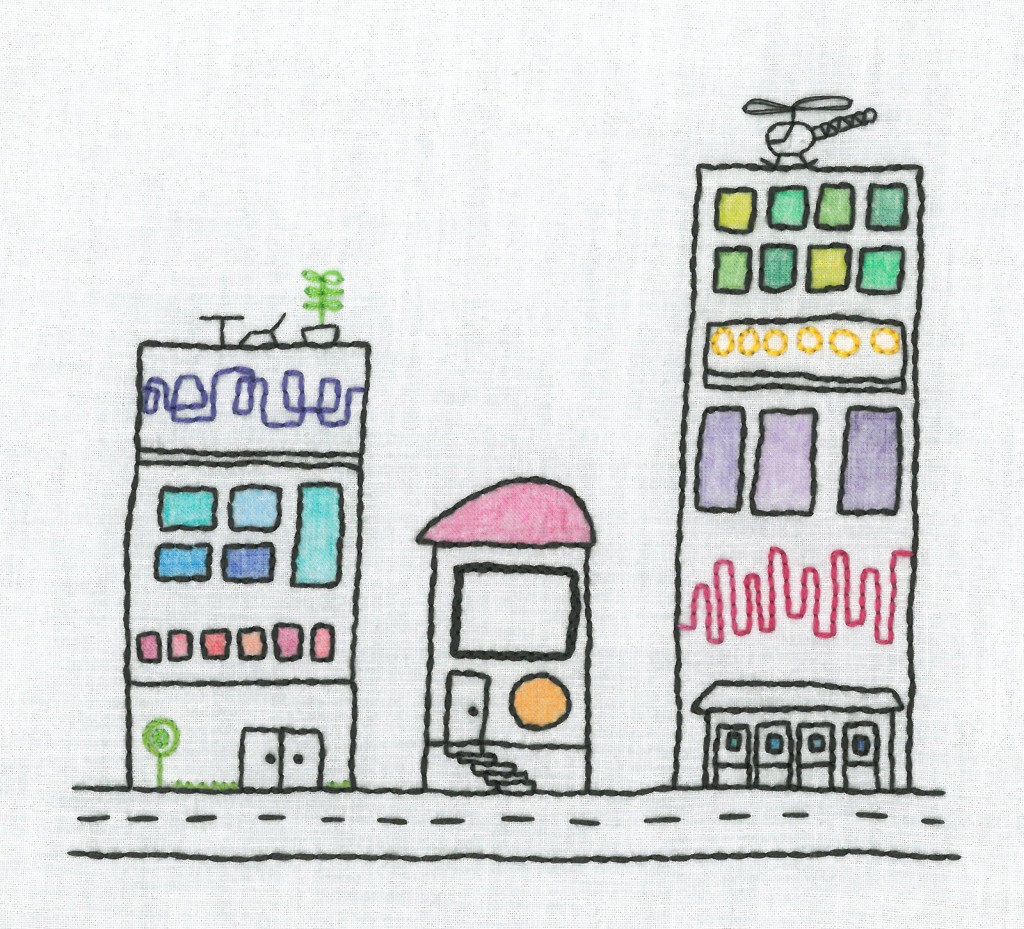 The Tools
You don't need much to start stitching. $10 and a trip to a fabric or craft store will get you everything you need.
– A couple of embroidery hoops in different sizes. I use my 7" hoop most often.
– A packet of embroidery needles in various sizes. You can use any sharp needle, but those specifically labeled "embroidery" have bigger eyes to accommodate the thicker thread.
– Embroidery thread. I use DMC brand. They have a great range of colors and the quality is very good. Embroidery thread comes 6-strands thick. You peel off as many strands as you like to adjust the thickness of your thread.
– Your favorite tools for transferring the pattern. This can be as basic as a sharp pencil, or as fancy as transfer paper and pens with iron-on ink.
– Fabric to stitch on.
Transferring the Pattern
I used three of the buildings from Joel's Paper City designs and transferred the pattern to plain white muslin the most basic way possible – with a pencil.
1. Download the page and print it out.
2. Tape the pattern to a window. Or use a lightbox if you're fancy-schmancy.
3. Tape the fabric over the pattern. Make it taut – but don't stretch it so tight that it distorts the shape of the fabric. You want the straight lines of the buildings to stay straight – not spring into curves when you untape the fabric. :-
4. Trace the entire design with a sharp pencil.
5. Done!
Transferring with a pencil is a great way to start because it's simple and you don't need any special tools – but it can be annoying because the pencil tends to drag the fabric around a bit. If you're having trouble with this, iron a piece of freezer paper to the back of your fabric piece. It will stabilize it enough for you to be able to draw on it without irritation, and you can peel it right off when you're done. You can find freezer paper in any grocery store near the aluminum foil.
If you want to transfer the image onto dark fabric, or napped fabric (like velvet or corduroy), or want to repeat the pattern multiple times, see my tutorial about other transfer methods at here. If you want to stitch on a T-shirt, see this tutorial for some specific tips on working with stretchy fabrics.
Time to Stitch
The fun thing about embroidery is that YOU get to decide what colors you use, what stitches you use, how thick your lines are, etc. But a lot of people always want to know how to duplicate exactly what I have on the cover of my patterns, so I thought I'd provide a stitching guide to MY version of Joel's Paper City, as well as give you some insight into why I made the decisions I did.
I love the black and white line drawings that Joel does, and I didn't want to mess with that quality too much – so I kept most of my lines nearly black (I use DMC #3371 for almost all outlining. It's a very, very dark brown that looks black at a glance, but it's not quite as harsh-looking as black can be on fabric.)
I loved the squiggly, doodly lines across the two taller buildings, so I decided to highlight those with colored thread. I also stitched all the plants in green thread to make them look like living things on the cartoony buildings. I added other pops of color by shading some of the windows with colored pencils before I started stitching. I use Prismacolor colored pencils – the pigment is really rich and they work beautifully on fabric, but you can use anything – even regular old crayons.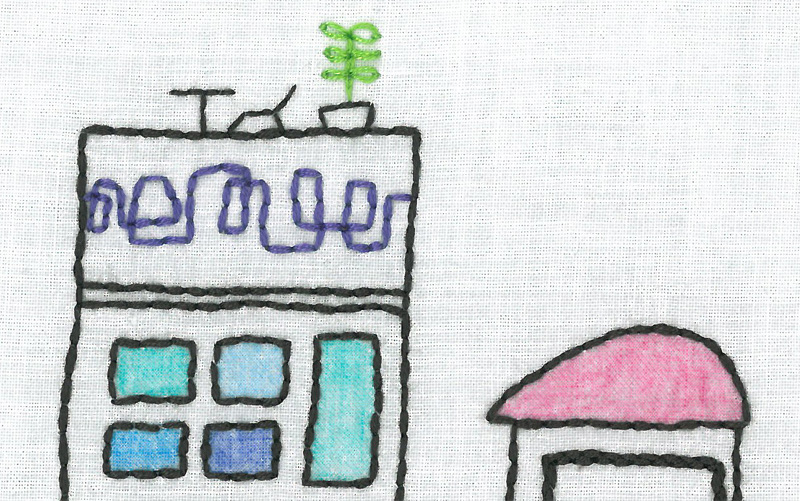 So here's what I did. Step 1 was to transfer the pattern. Step 2 was to color in all the windows I wanted to. Step 3 was to stitch. I used just four stitches on this project – below are links taking you to video tutorials where you can learn how to do them.
Backstitch
Split stitch
French knot
Lazy daisy
These are the four most basic embroidery stitches there are. With just these stitches you can stitch any pattern you find out there. Really.
All of the main building lines and the road are backstitched with 4 strands of DMC #3371.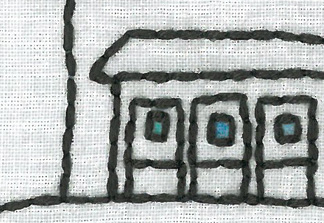 The patio furniture, pot and helicopter on the roofs are backstitched with 2 strands of DMC #3371.
The leaves of the plant on the roof are stitched with 2 strands of DMC #704 using the lazy daisy stitch.
The tree in front of the first building and the stem of the plant on the roof are split stitched with 2 strands of DMC #704.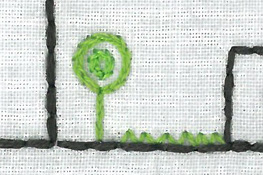 The grass is just little straight stitches in 2 strands of DMC #704.
The helicopter blades are 2 strands on DMC #3371 in lazy daisy stitches.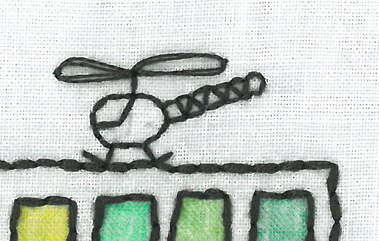 The door knobs are French knots with 4 strands of DMC #3371.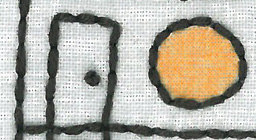 The yellow circles and the squiggly, doodly lines are backstitched with four strands of thread. The yellow circles are DMC #743.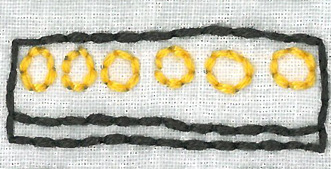 For the thick window frame in the center building, I used the same 4 strands I used on the rest of the building – I just stitched around it twice.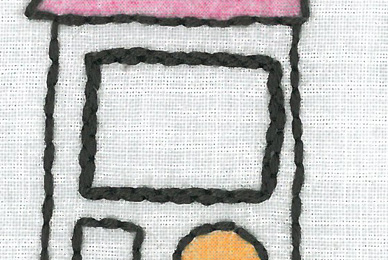 That's it! Happy stitching!
Wendi Gratz lives online at Shiny Happy World (http://www.shinyhappyworld.com) where she offers free sewing and embroidery video tutorials and patterns designed especially for beginners of all ages.