I just finished a new music video for my sister's upcoming kids album. The song is "When I Look Into The Night Sky." It was a really fun video to make! I painted some paper and made abstract space objects, tied them to some thread, and basically did a puppet show. Our almost two year old seems to approve of the video. She keeps saying, "moon, moon!" while doing the more sign with her fingers. Cute!
If the video inspires your kids, I've included a coloring sheet template so they can create their own paper craft movie set. Simple instructions below!
And at the end of the post is an interesting note from Lori, where she talks about her creative process while writing the song.
Hope you all enjoy it!
Below are some behind the scenes photos of the "movie set."
While shooting the video, I just moved the planets around with strings, while sliding the characters across the floor with paper clips and magnets. I also had to do a lot of fanning with an old record album sleeve when I needed to make the stars in the background twinkle and move.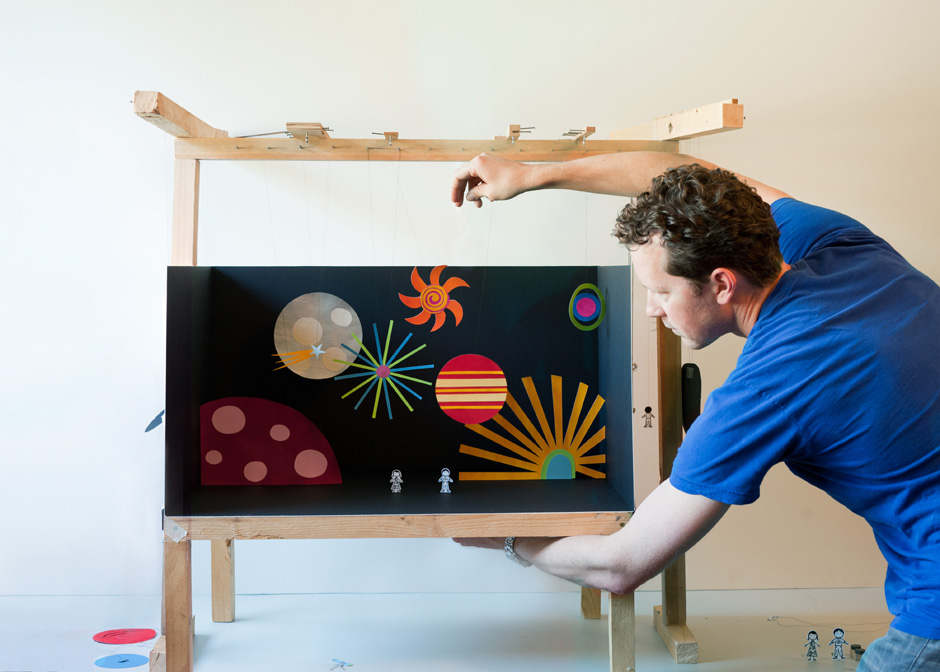 Below you can see that I taped some of the standing props to wooden blocks. Then bent paper clips and taped them to the backs of the characters so I could slide them around with the magnets. You can easily do the same with the printable below! For the telescope, just cut it out and bend the middle leg forward a bit, and the two outside legs back slightly to make it stand up.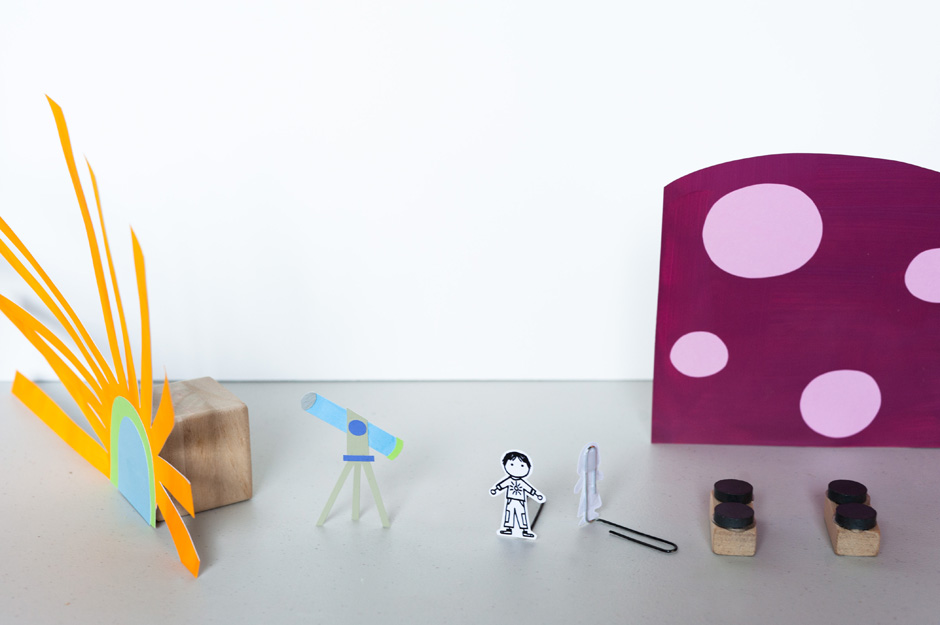 For the flying people and shooting star, I just attached two pieces of thread to a stick of wood or piece of cardboard, then "flew" them around.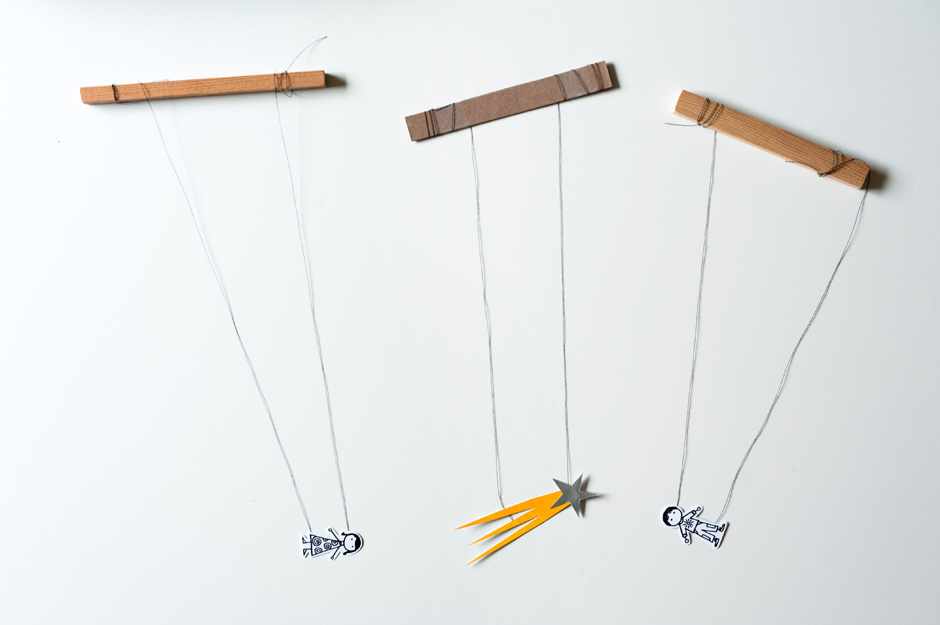 Instructions:
1 – Print the sheet below and color it in
2 – Cut out the objects
3 – Tape thread to the back of the hanging objects. Tape standing objects (the big sun ray) to a block to stand it up. Then cut out the people and tape them to a bent paper clip, or print out another copy and attach a second set of people to two pieces of thread so you can fly them around. (See above images.)
4 – Finally, find a box and tape the objects to the inside top of the box to hang your planets and stars. You can even use magnets to slide the paper clip people around on the floor of the box.
Template below: Click on the image, then print.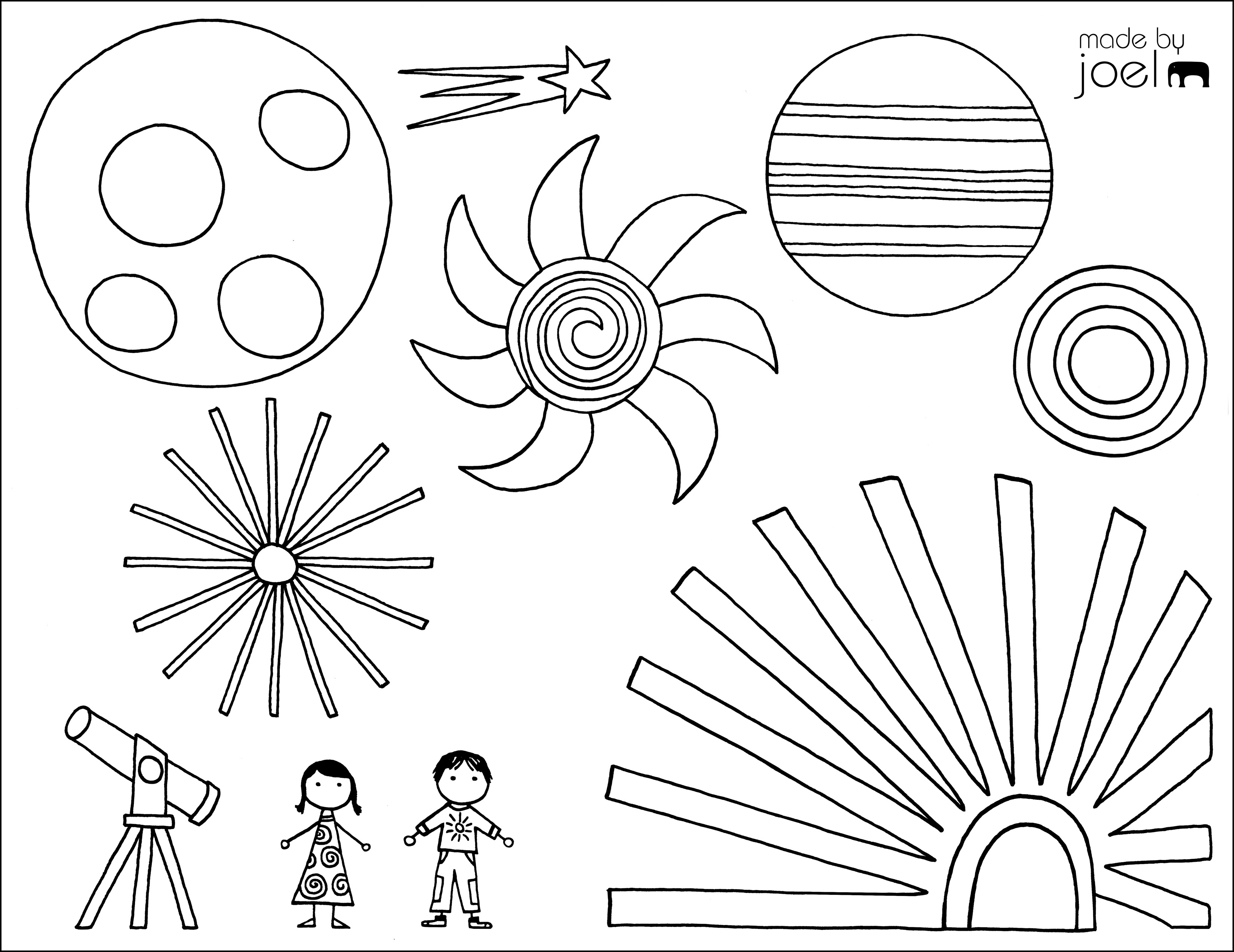 Note from Lori:
I love the haunting melody of Saint James Infirmary and have wanted to introduce it to children for a long time. A couple years ago, I began creating some lyrics better-suited for kids but found I couldn't quite explain this big idea I was feeling, so I kept coming back to it every few months. It had been rolling around in my mind all this time when I came across a quote from Neil deGrasse Tyson that included, almost word for word, the first line of my lyrics:
"I look up at the night sky, and I know that, yes, we are part of this Universe, we are in this Universe, but perhaps more important than both of those facts is that the Universe is in us. When I reflect on that fact, I look up—many people feel small, because they're small and the Universe is big, but I feel big, because my atoms came from those stars."
Reading his quote, I had an aha moment and finished the song soon after that. Most of my songs come quickly, so you can imagine it was a very good feeling to have this song come together after working on it for over two years. Hearing it now while watching my brother's abstractly transcendent take on the human fascination with the stars, it feels like the melody really wanted to go here. We sparkle and we marvel…
xoxo Lori