Here is a convenient page for my book, Made to Play, where you can find info, download actual-size templates for the projects in the book, or ask questions.
Thanks everyone!
Joel
Click image below to look inside!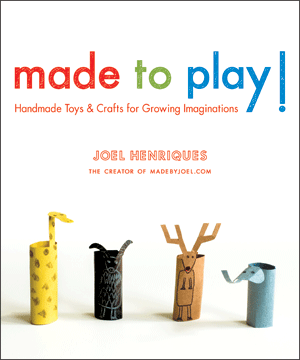 Where to buy
Here are just a few links for ordering. It's available world-wide, so if your country is not listed below, you may search the ISBN# 159030912X, or ask your local book store to order it for you.
United States: Roost Books – Random House – Barnes & Noble – Powell's – Amazon
France: Amazon
Finland: Bookplus
United Kingdom: Amazon
Germany: Amazon
Australia: Booktopia
Japan: Amazon
Templates for you to print!
Below you'll find actual-size templates for the projects in this book. You can use the following templates as is or adapt them to your family's own interests and ideas.
Note: Click a file to view it in your web browser. Right click and save the link if you would like to download it to your computer.
– Animal Finger Puppets
– Drawing with Vintage Buttons
– Embroidered Pillow Doll
– Fabric Instruments
– Paper and Wire Sculptures
– Paper Barn and Animals
– Portable Zoo Animals
– Sewn Trumpet
– Shadow Box Theater
– Simple Paper Animation
– Slotted Building Discs
– Small Wooden Trucks
– Wooden Guiro
– Wooden Nature Scene
– Wooden Sleeping Doll
These templates accompany the book Made to Play! by Joel Henriques, copyright © 2011. Published by Roost Books, an imprint of Shambhala Publications. Please use these templates for your own personal use only.
Description of Made to Play!
Delight young children and encourage play through unique handmade toys. From sewn and stuffed musical instruments to interlocking paper building blocks and wooden animal figurines, the projects in this book are meant to encourage open-ended play. Organized by kid-loving subjects, the toys here follow the themes of Zoo; House; Blocks, Cars & Trucks; Dress-Up; Music; and Art. Overall, the projects here are meant to stimulate imagination, build confidence through success and enjoyment, and enhance the bond between family and friends through the creation of unique, artistic handmade toys and crafts.
The thirty-five projects in this book include a variety of crafts, from drawing to sewing and light woodworking. The toys presented here are made out of wonderfully tactile materials—repurposed fabrics, wood, and paper—and invite opportunities for creative and imaginative play. Every project is easy to complete, made with accessible materials, and requires little time to make. The projects are simple enough that endless variation can come from the making of each, leaving enough room for you to make the item to suit your own personal interests.
With a design aesthetic that is clean, simple, and modern, each project is presented with full-color photos and hand-drawn instructional illustrations and templates. Projects include:
Modern Doll House and Doll House Furniture
Portable Zoo Animals
Abstract Vertical Puzzle
Wooden Nature Scene
Bottle-Cap Tambourine
Exploration Cape
Modern Alphabet Game
Shadow Puppet Theater
And more!
Video below
Join Joel Henriques in his studio, as he talks about art, making toys, and his book, Made to Play.