By popular request, I've made a small list of favorite tools I use for toy making, photography, and crafts.
NON-TOXIC PAINT: To paint my kids toys I use Acrylic paints by A2 Chroma. They're nice paints, non-toxic, and very affordable.
CAMERA: I used to have a Nikon D70, but now I shoot with a Nikon D700. DSL cameras are big, but they're totally worth it. For almost every photo on my blog I use a fixed 50mm lens. It has zero distortion, which is amazing for taking photos of people and photographing crafts.

PRINTER PAPER: For Paper City, etc. I use a matte photo paper and a basic ink jet printer. The images are way clearer on the matte photo paper, as opposed to regular paper, and the matte is easier to photograph than glossy photo paper. If you're just coloring for fun, then regular paper is plenty good.

DRAWING PENS: For drawing coloring sheets and things like Paper City, I use Staedtler Pigment liner pens. The pack with five line widths is very handy, and these pens supposedly don't fade in sunlight like Sharpie's do. They also come in colors.

NON-TOXIC PAINT PENS: My favorite paint pens are Painters Opaque Paint Markers by Elmer's. I use them on fabric, cardboard, and also to decorate wood toys. They're non-toxic and have virtually no oder. (Except for the metallic colors, which do smell.) If you use them on fabric, then blow with a hot hair dryer to set the ink. It will then be permanent and even withstand washing.

NON-TOXIC WOOD FINISH: The wood finish I use is a food grade beeswax polish by Three BEEautiful Bees. Just rub it on with your fingers. Great for your skin, and wooden toys!

SAW: I use a scroll saw for almost all of my wooden toys. They're great for cutting out small shapes, and I love the built in circular sander. I have a very old one. You can often find them used for very little money. I actually had one in my bedroom when I was 9 years old. What a nice mother I have! And she still has some of the toys I made with it!
WOODBURNER: I've had a woodburner since I was 9 years old. It's a nice non-toxic way to decorate wood toys. You can find them at most hardware, or craft stores. Just be careful, because they get very hot!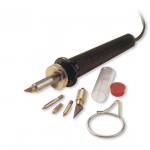 So there you go. I'm hoping that some of you will comment to share any favorite tools you've found too. Now off to make some toys!