By Wendi Gratz
(Giveaway info below to win these bags!)
Hello again everyone! Way back in July I posted here about some basic info you need to start embroidering – and I shared some of the details about how I stitched up one of Joel's Paper City designs. As soon as I saw Joel's holiday designs on printable gift tags. I knew I wanted to stitch them on some little gift bags. Joel gave me permission – so here I am with another embroidery tutorial. :-)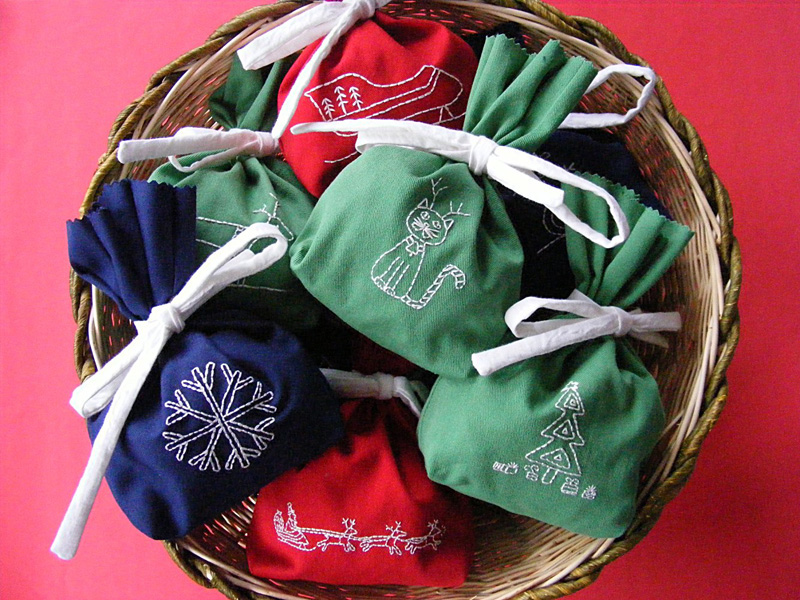 First off, you'll need the free Goody Bag pattern. You can download the PDF pattern here.
You'll want the images so that they pretty much fill the face of a goody bag. (No wider than 4 inches, and no taller than 2 1/2 inches.) Joel has created a new template in which the images are already resized for you. Just click on the image below, then print.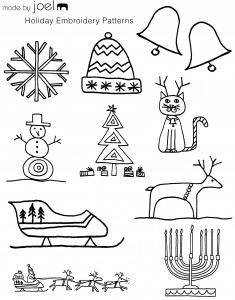 Next up, you'll need to transfer the image onto the fabric. I used a medium-weight twill. I couldn't see through it well enough to trace the design with a pencil, so I used an iron-on transfer pen. You can watch a video showing you how to do that here.
Transferring the image isn't difficult – the trick is knowing exactly where to place it. The pattern calls for you to use two fabric rectangles – one for the front of the bag and one for the back. The edges of those rectangles will wrap around to form the sides and bottom of the bag. You want to make sure to position your embroidery so that it's centered on the front of the finished bag. First, fold the rectangle of fabric in half the long way and mark the center with a pin. That will show you the vertical center line. Now – measure up 2 inches from the bottom of the rectangle. Place the bottom of your design so that it rests on this line. (See photo below of the bag before it was sewn. There is more fabric than you might expect showing around the edges of the embroidered image.)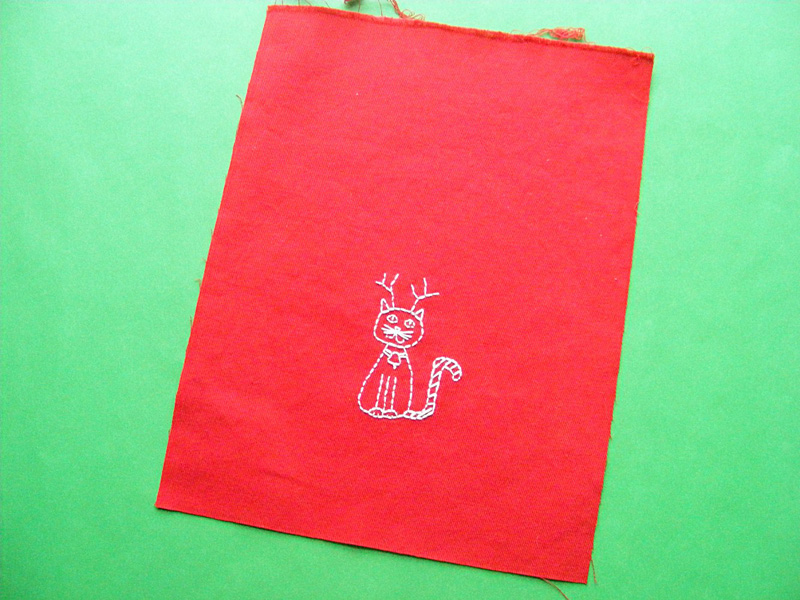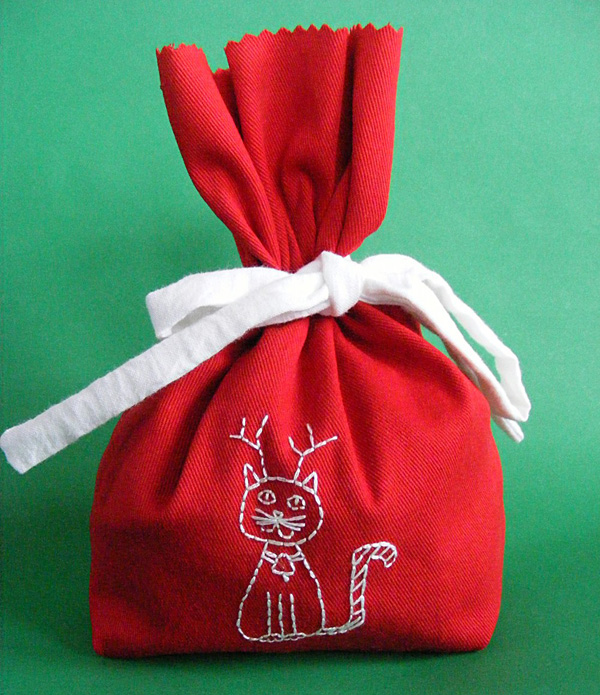 Now stitch your design. I backstitched everything in white thread (There's a video tutorial for that stitch here.) For almost all the designs I used three strands of embroidery thread. I used just two strands for the tiny packages under the Christmas tree, and for the entire Santa-Driving-the-Sleigh design.
These would be a really fun project to work on with kids – especially the simpler designs like the hat, the bells, the sleigh, and the snowman. I definitely don't recommend the Santa-with-Sleigh design for beginners of any age. That was some fussy stitching! :-)
Happy stitching everyone!
Best,
Wendi
Giveaway info!
Hey everyone. Joel here. Wendy has very kindly offered to give away these two sets gift bags!
Leave a comment on this post to try and win one set!
Leave a comment on Wendi's blog here, to try and win the other set!
The contest will end Saturday morning. Then we will randomly select the winners and notify you.
Wendi said she will ship world-wide, so everyone can enter. (Depending on where you live, there's a chance they might not arrive by the holidays.)
Good luck! Happy Holidays! And thank you Wendi!
Joel
UPDATE: THE CONTEST IS FINISHED. Cath is the randomly selected winner! Congratulations!