This Guest Post is by my sister, Lori Henriques
Caroling is Catching!
As a music teacher, I often find myself inviting people over to perform or participate in some kind of music. One of my best memories is a Richard Rodgers Centennial celebration back in 2002 in which guests were instructed to BYOP: Bring your own performance of a Richard Rodgers piece. Joel brought two turntables and a drum machine for his yodeling hip-hop arrangement of "The Lonely Goatherd". But that's a story for another day.
One of our favorite musical gatherings is just around the corner ~ our yearly caroling party. We've been doing it for years now, and with trial and error we've gotten it down to a science. The first year we did it, our son was the tiniest guy on the block. My husband and I thought it would be fun for him to experience a house full of people joyfully singing, so we packed the whole neighborhood into our living room. We handed out lyric sheets to the adults and percussion instruments to the pre-reading kids. I hadn't yet learned to sift out the louder percussion instruments, and the kids were really going for it with those bells and whistles. Matt and I looked at each other laughingly, wondering if we were in over our heads…
Then the magic happened. Once we started singing our hearts out, they were caught up in the moment and really started getting into it. By the time we'd gotten through our lyric sheets and were ready for apple crisp, everyone was overflowing about how fun it was to sing in a group, and how long it had been since they'd done that. Basically, we were all transported back to childhood.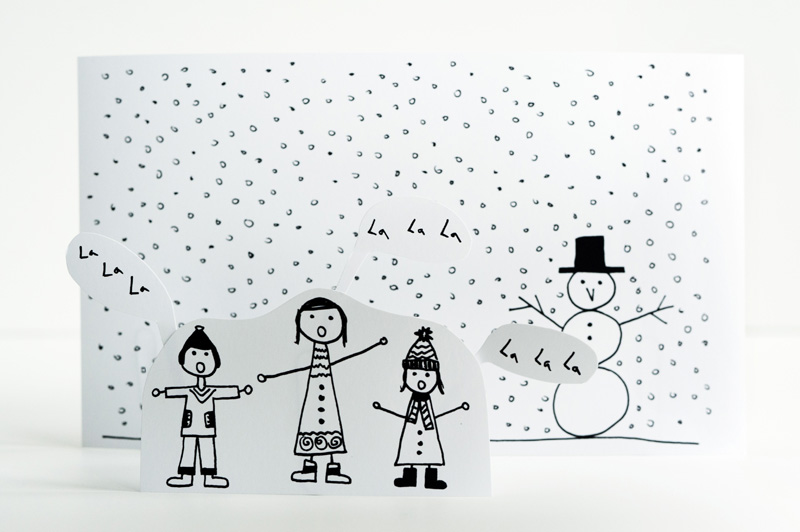 Here's what we've learned over the years to help our caroling parties go smoothly:
1. Lyric Sheets ~ You can easily make your own using cut-and-paste with lyrics found online. The party flows well with minimal verses to each song, and we've noticed that repeating the first verse can help carolers build confidence. We include 12 songs in our lyric sheets, and sing as many as it seems people are in the mood to sing. Typically, we get through them all and leave people wishing for more. It's always good to leave people wishing for more, I think.
2. Song Leader ~ When someone is singing his or her heart out in front of the group, the energy is catching! Even if it takes a couple minutes, it will happen.
3. Accompaniment ~ A pianist or guitarist is marvelous and probably the most available. And the more the merrier! Last year we added a violinist, and that was a real treat. As far as percussion goes, I've learned to hand out only the quietest of shakers so the singing will be the strongest sound in the room. And speaking of strong singing, if you find yourself without accompaniment and still want to have a caroling party, plan ahead for a song leader with a strong voice and a good sense of rhythm and go for it!
4. Diversity ~ My family celebrates Christmas, so the bulk of our caroling features Christmas songs. Since we've always had Hanukkah celebrators in our midst, we've enjoyed including Hanukkah songs as well. Last year we lucked out when one of the best Jewish music teachers in town, also a dear friend and student family, came with her guitar in hand. She really broadened our repertoire of Hanukkah songs, and it was a particularly rousing element of our party.
Over the years, we've also led caroling at various friends' parties. Last year we joined a fervent group of Solstice-celebrators, and this year in addition to our own party we're singing at three others, including our first time singing in an elder care home. Caroling together is unifying, and just plain fun. It's a marvelous way to bring voices of all ages and paths together into a present moment of pure joy.
You who gravitate to Joel's blog are all über-creative, and I look forward to hearing about your musical holiday traditions in the comments. Happy singing to you all this season!