"We love our kids so much, we want to give them everything. We work hard to give them as many opportunities as possible. Sometimes we are so busy doing this, we don't even have time to sit down and relax together. We know this is just as important as the piano lesson or the dance class, but we think we'll always have time for that later.
What if we decided to take that quiet time now? I am sure we can all find 5-10 minutes for a few yoga postures. It might be in the morning, to welcome the sun. Or at the end of the day, to calm down before going to bed. It could be anytime in our busy days.
You don't need to be an expert to introduce your kids to yoga. You can even start exploring this wonderful discipline with them, through play.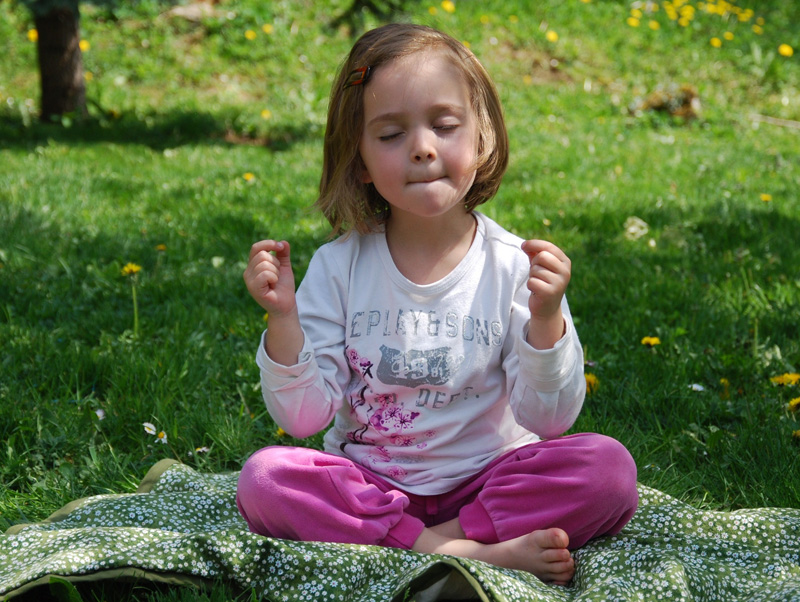 Yoga improves concentration, memorization and learning. It helps with releasing anxiety and handling strong emotions. It reduces impulsivity and improves listening skills. Practicing yoga boosts creativity and improves posture, giving relief to students who are forced to sit down for long hours. Yoga also improves motor development and balance.
Researchers from the Sainte Justine Hospital in Montreal affirm yoga can help asthmatic kids to cope with their desease by controlling breathing and handling stress.
If you want to practice yoga with your kids, just forget the "classic" idea you have of yoga. Your kids won't stand still for hours meditating. Yoga with kids is fun, joy, conviviality. Just set a few rules (for example during yoga time kids won't run or scream) and enjoy the moment.
Teaching yoga to our kids is a wonderful gift that will help them for their whole life. And if you never tried yoga before, this can be an easy way to start!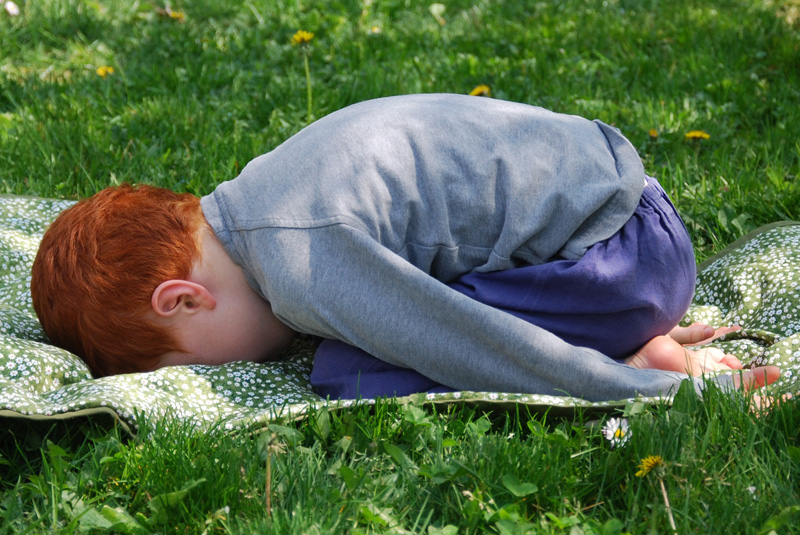 YOGA POSES:
The cat pose is perfect for warming up. On all fours, inhale and gently arch your back and move your head backwards, looking at the ceiling. As you exhale, round your spine upward, toward the ceiling, and move your head inward. Repeat several times, following your own breathing rythm.
The downward-facing dog: hands and feet on the floor, tailbone up, gently stretch all your muscles while you inhale and exhale. This is an energizing pose. It stretches the whole body and strengthens arms and legs.
The sphynx: lie on your belly, elbows under your shoulders, forearms parallel to each other. Close your eyes or fix a point in front of you and breathe deeply while you gently stretch your spine. This pose strengthens the back and helps with releasing breathing problems.
Always breathe from the nose. Keep each pose as long as you wish and you are confortable with. Listen to your body and never force yourself. If you don't like a pose or you are not confortable with it, just try another one.
You can find more easy poses (and a fun way to learn languages) on my free printable bilingual yoga cards."
Interesting links about yoga with kids:
Yoga in my school
The kids yoga resource
Yoga Skills for Youth Peacemakers