The BIG collaborative ocean project
The ocean is both wide enough for us to frolic at the edges and vast enough to get lost in. A meeting point of world continents and cultures, such seas invite the possibility of adventure, travel and messages in windswept bottles.
The main thing separating kids from their grown-ups is a sea of years. We were all once children, it's just that we learn to lose the pathway to wonderment and impossibility. Side by side collaboration between adults and their children can become the meeting point for unprecedented creative voyage. In our experience, literally sharing the same page with a child becomes a detailed map for unexpected discovery and priceless treasure. Art becomes open-ended like the sea, and like the sea, you can never predict what will happen; just watch the wind, raise the anchor and sail away.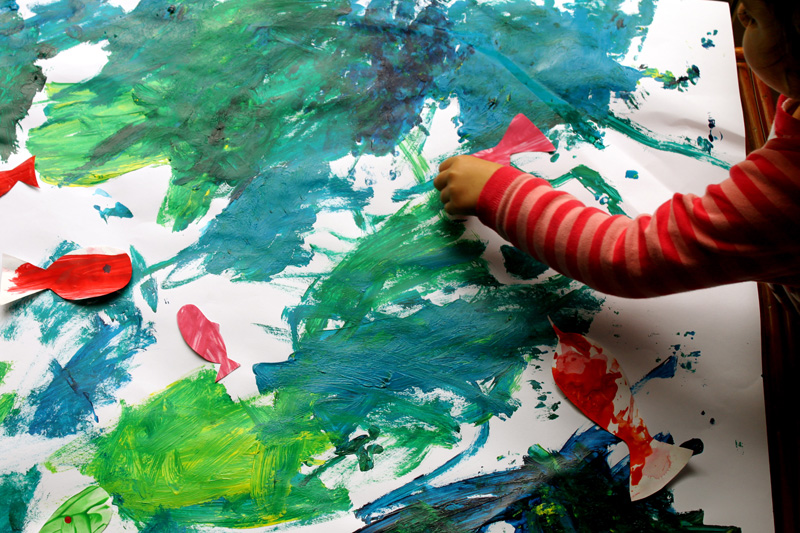 Diving in to a shared process-based experience with children is different to making or setting up projects for children. There is something exhilarating about saying yes without offering grown up ideas that derail the experience of being lost. Or simply being open to 'not knowing' where the paintbrush will stop, having no end point or conclusion in mind. Kids are not weighed down by ideas of gravity, chronology or limited logic and this is amazing for tripping up and inspiring our own creative adult sensibilities! There is enormous value for children in seeing parents/adults engaged in equally risky and open-ended creative work. Mistakes become the greatest jumping off points and every mark and spill is valued as a departure point or temporary landing.
So how do we nurture this unbridled creative play and how do we, with our deadlines and learned aesthetic, let go enough to meet them there? Well, we think one BIG way is to start with a collaborative ocean:
Start working on the same large piece of paper together following your child's lead and fill the entire page as the imagined middle of the BIG ocean.
– What are the colours, textures, patterns and FEEL of your ocean?
– Is it dark or light, scary or inviting, warm or cold?
– What kinds of brush strokes are irresistible?
Your completed collaborative ocean can then be used to connect Joel's own city-scapes with original cities that you can draw and imagine together.
Finally, using the template below, print out the three BIG boats and characters and set them on a voyage across the ocean to visit each of the different cities. You can make your own B.I. G (Bravery, Imagination, Generosity) characters to captain the boats. Or you could even collaborate on your B.I.G characters by drawing them as three fold 'Exquisite corpse' drawings.
What adventures happen when the storm comes and the boats capsize under ocean? What worlds do your characters visit and what city are they from?
We imagine a virtual sea where all the little BIG boats and captains can meet and tell tall tales of high seas and shared adventure!
This guest post was co-authored by Jo Pollitt and Lilly Blue, the creators of BIG Kids Magazine, a new creative arts based magazine for curious kids which will set sail on September 1st. If you are interested to know more about artistic collaborations with kids, head to www.bigkidsmagazine.com where you will find us deep in the process of making a magazine and more!
Click on the image below, then print. (Artwork by Jo Pollitt and Lilly Blue. Template layout by Joel Henriques.)