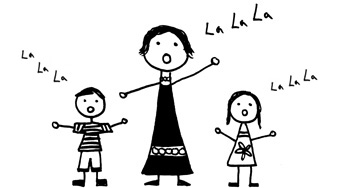 Hi, Everybody.
It's Joel's sister, Lori. Some of you know about my musical projects featuring Joel's art since he has so kindly mentioned them here. Joel, Darius, and I have been talking a lot about the connection between music, art, creativity, and the mind. As a teacher, I've seen the enormous benefit children receive from musical education and exposure. I'm thrilled that Joel and Darius have asked me to contribute a series of musical posts to broaden our conversations here at MadeByJoel.com.
Last summer, thanks to our three-year-old's love of Bobby McFerrin, we attended an interview and concert. Afterward, we had the thrilling experience of meeting our son's musical hero. He's a warm and brilliant soul, further evidenced in this video from a neuroscience lecture in which he illustrates the power of the pentatonic scale:

As it turns out, the pentatonic scale [do re mi – so la] is prevalent in many cultures. Since it seems to be "hard-wired" into the human brain, it's very pleasing to us.
The pentatonic scale lends itself beautifully to improvisation, i.e. making up songs on the spot. I bet a lot parents are with me on this – making up songs is a great way to have fun, learn something new, cajole your child into cooperating, etc. I'd love hear about the songs you're singing with your children, made up or otherwise, and try to figure out if any of them use the pentatonic scale. Here are a few examples of songs that use the pentatonic scale:
The Farmer and the Dell
Mary Had a Little Lamb
Amazing Grace
Old MacDonald Had a Farm
Peter Peter Pumpkin Eater
The pentatonic scale is the tonal building block of both Orff-Schulwerk and the Kodály Method, used commonly in classroom music. If your child is learning either of these approaches, we'd love to hear about that, too. Vive la musique!